International Test Series Information and results
U14 – SA vs Zambia (4/5/6 August 2017 – Paddock) The SA U14 Team and management

Amy Cocker
Angus Dick
Nikita Gilks
Lauren Heynes
Andrew Lynn
Yamin Schuch
Jake Shaw
Coach: Ross Beukes
Ass Coach: Gordon Shaw
Manager: Vanessa Gilks
Our worthy opponents – ZAMBIA U14 Team and Management
Andrew Mawson
Daniel Mawson
Louie Jones
Andrew Hall
Amorette Du Toit
Oliver Snart
Ricardo Taljaard
Coach – Rory Logan
Manager – Matt Mawson
Umpire – Richard Chappel
Horse Care – Kelly Kranauw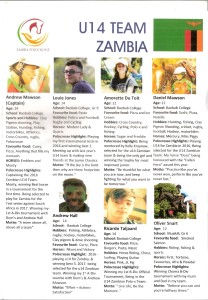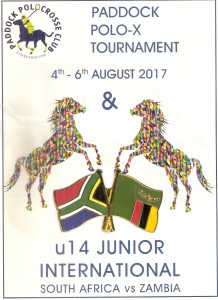 ---
The U14 Test series was a great success. The Zambian and U14 side were hosted by Paddock Club from the 30th June. The SA U14 side set up a very efficient camp site and managed to feed both teams for a week.  Thank you to Vanessa and Mark Gilks, Eduard Schuch, Kerry and Ian Lynn, and Gavin Cocker for all their help with the camp site.  The horse draw took place on Monday morning. The players practiced during the mornings and spent the afternoons together. The teams were very kindly sponsored Zip lining tickets by Lake Eland. Great fun was had by all!. Wednesday afternoon was spent at the beach with both teams and our grooms. The life saver on duty blew his whistle constantly trying to keep our very excited grooms and players in the safe swimming area!
The teams had a great formal evening at The Gorge Hotel on the Thursday evening  and the first test match started on Friday.  The South African side lost to Zambia by just two goals. The Saturday test match was also very exciting with the South AFrican side losing by four goals. The third and final test match was played on Sunday and Zambia ran away with it.  One has to mention the Mawson brothers from Zambia. They both played exceptionally well and Daniel walked away with best number one and best overall payer. Andrew Mawson won best number three. Lauren Heynes won best lady player and Jamin Schuch was awarded the best South African male player.  Lauren Heyne's horse – Cup Cake was awarded best pony. I think Daniel Mawson was hoping to take Cup Cake home in his suitcase, they made a formidable team!
The young South African team played above all expectations, all thanks must go to their coach Ross Beukes and assistant coach Gordon Shaw. Thank you also to all the parents who so willingly assisted with the catering and transport to and from various activities.  Thank you to Paddock Club and the Pretorius Family for a wonderful venue where such care is taken of every small detail, our grooms had an endless supply of hot water for the week.  Thank you to Manfred our vet from Baker Macveigh. A huge thank you must go out to the horse owners who lent their horses to the teams. The teams had above average horses in their pools and were very greatful. Thank you to Shannon Gilson for driving down especially to be with us on Thursday evening then back to Kokstad to photograph a bull sale and then back to Paddock for the polocrosse! Such an amazing lady, Shannon.  Great friendships were made and a great tour was had by all.
U16, U19– SA vs Zam Mixed Team (14/15/16 July 2017 – Richmond)
The weekend was a great success. The Zambian u16 section combined with the SA U19b section and played against our SA U16 Team. The SA U16 team won all three test matches. The Best male U16 player went to Robbie Anderson and the best female U16 player was awarded to Clio Strydom. The best horse in this division was awarded to Tombi owned by Lauren Kuhn.
The SA U19 team beat the Zambian U19 team in all three test matches.  The Zambian mens section however managed to outscore the SA mens section in two of the test matches and they drew in the third test match. The U19 SA ladies were outstanding and untouchable and beat the Zambian ladies convincingly thus giving SA enough goals to win the three test matches. The Zambian team improved steadily proving that  competitions such as these are important for the future of African polocrosse. The best lady player was awarded to Paige Pretorius and the best male player was awarded to John Rae. The best horse in this division was awarded to Sweet November, owned by the Pretorius family.
The SA U16 Team
Jens Bunge (cpt)
Clio Strydom
Trent Cocker
Micha Van Coller
Robert Anderson
Taylor Von Benecke
Istvan Schuch
Sam Gilson
Coach- Luke Rauch
Managers – Paula and Dudley Anderson
U19 – SA Team (14/15/16 July 2017 – Richmond)
Chad Von Benecke (cpt)
Keighley Van Wyk
Keenan Claasen
Paige Pretorius
Joshua Le Roux
Taylor Mansfield
Connor Beukes
Courtney Odell
Coach – Henry Harris
U19 – Rovers Section (14/15/16 July 2017 – Richmond)
Stuart Odell
Ethan Gourley
Rickus Cilliers
Joel Visser
Coach – Andrew Heynes
Senior Australian Tour Results
Here are the results of the Senior Australian tour and a big congrats to the men for a 3/3 victory.  And a special congratulations to the individual prize winners.  Well done to the ladies on their huge improvement in test 3.

Thursday
Ladies   SA 14     Australia  25
Lady of the match Laura Donnelly
Men      SA 31     Australia  21
Man of the Match  Travis Timm
Friday
Ladies   SA 14     Australia  30
Lady of the Match  Lucy Grills
Men      SA 28     Australia  24
Man of the Match  Graham Maclarty

Saturday
Ladies     SA  19  Australia  25
Lady of the Match   Jean Hackland
Men         SA 28  Australia  27
Man of the Match   Will Weston
Player of the series Graham Maclarty
2017 QUADRANGULAR TEAMS
The following teams played in an unofficial Quadrangular series between South Africa, UK and USA.  The event was hosted by Mooi River .  The winners of the Quadrangular Mens division were the SA Mens A side, second was the USA side , with the UK coming third and the SA Mens B fourth. The SA Ladies A Side won the ladies division with the UK coming second , the SA Ladies B coming third and the USA ladies coming fourth
Ladies A:
Jean Hackland
Ashleigh Shaw
Sarah Van Wyk
Camilla Harris
Caroline Minaar
Jacquie Minaar
Tarryn Higgs
Amber Pretorius
Coach – Gavin Cocker
Mens A:
Jannie Steenkamp
Retief Steenkamp
Andrew Heynes
Luke Rauch
Scott Hosking
Stefan Harris
Ross Odell
Dane Csaszar
Coach- Bruce Maclarty
Manager – Andrew Odel
Mens B: 
Glen Haldane – capt
Shane Mansfield
Alastair Armitage
Sean Gilson
Brian Cooper
Maverick Gillespie
Craig Buss
Craig Stoltz
Coach – Gordon Shaw
Ladies B
Ashley Cooper
Michelle Roods
Jenny Firth
Candice Michelson
Megan Soal
Belinda Dunford Campbell
Camilla Le Grange
Brya Gillespie
Coach – Brent Von Benecke
2016 Tour Results:
Junior International against Australia and Veterans International against Zambia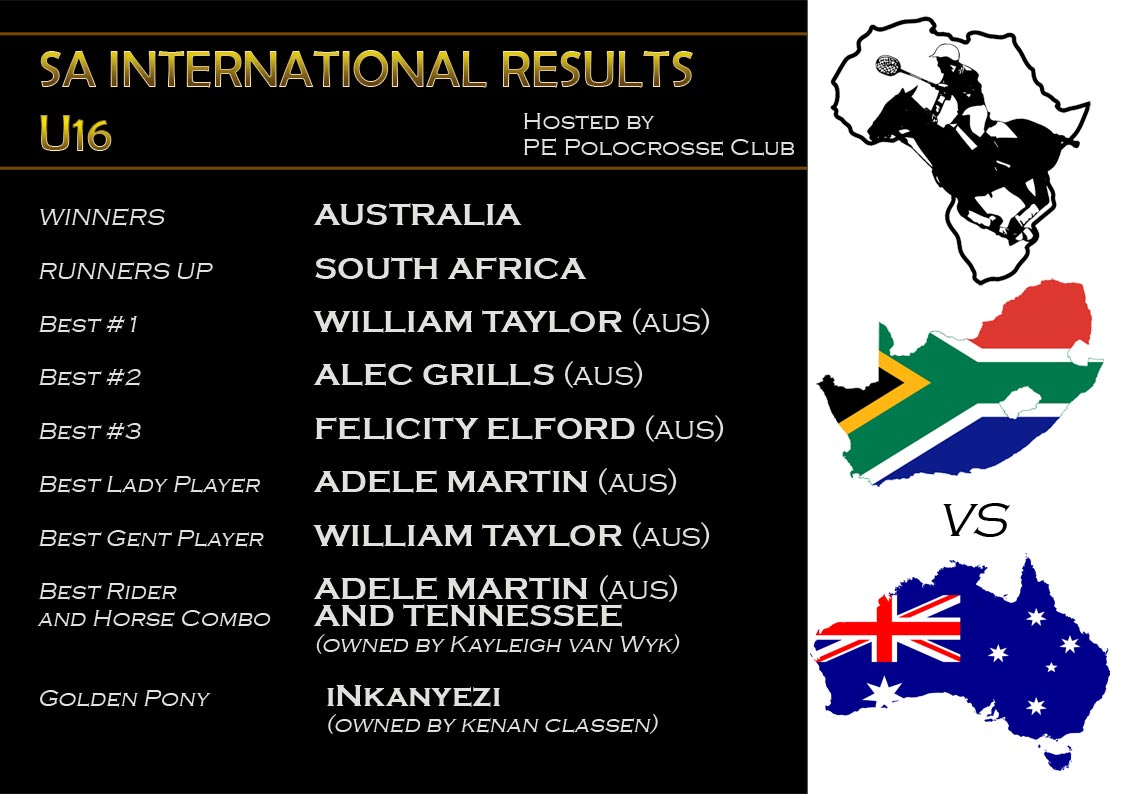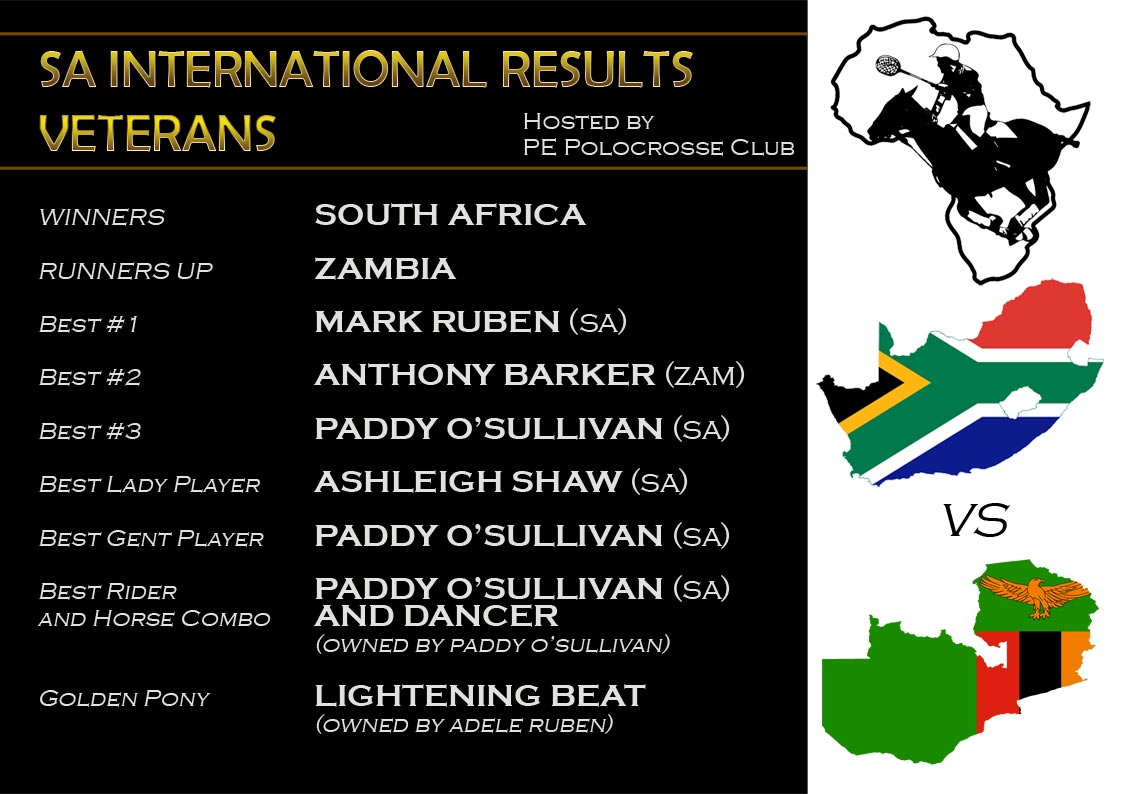 SCOREBOARD
Day 1 – 15 July 2016
U16 – AUS 28    SA 13
Veterans – SA 26  Zambia 16
U21 – SA 28 Aus15
DAY 2: 16 July
Vets SA 26  Zambia 17
U16 – Aus 26  SA 10
U21- Aus 29  SA 17
Day 3 – 17th July
Vets- SA 25 Zam 11
U16 – Aus 26 SA 14
U21 – Aus 30 SA 22
U16 – Team
Coach – Jan Albert Steenkamp
Ass Coach – Graham Maclarty Nyati
Manager- Derrick & Juliette Claasen
Clio Strydom from  Saldanha
Kayleigh Van Wyk from Nyati
Paige Pretorius from  Paddock
Sam Gilson from  Kargs Post
Chad Von Benneke from Shongweni
Conor Beukes from  Walkerville
Jens Bunge from Paddock
Kenan Claasen from  Paddock
U21  TEAM
Coach – Henry Harris
Ass Coach – Andrew Heynes
Manger – Sam Hewitson
Amber Pretorius from Paddock
Jacqui Minnaar from Umvoti
Natalie Maclarty from  Nyati
Taylor Mansfield from PE
Ross Beukes from Walkerville
Ross Odell from Hilton
Shane Mansfield from PE
Stefan Harris from  Nyati
The Veterans
Patrick O'Sullivan – Coach
Ron Sparrow – Manager
Nicola Rae
Ashleigh Shaw
Patrick O'sullivan
Mark Rubin
Mike Elston
Nick De Jong
Steve Gilson
Ron Sparrow
Well Done to the SA U14 team who won their 2016 test series against Zambia two games to one!
The Team:
Coach – Luke Rauch from Saldanha,
Assistant Coach – Gavin Cocker from Shongweni
Manager – Brent & Sally Le Roux  from Hilton
Ishvan Schuch from Limpopo
Jake Shaw  from Bishopstowe
Joshua Le Roux from Hilton
Micha Van Coller from Saldanha
Robert Anderson from  Mooi River
Tayla Von Benneke from Shongweni
Trent Cocker from  Shongweni