World Cup Contributors

Read all about E-Sound in our news section. Eddie was responsible for the amazing sound at the World Cup. His professional manner and tireless work ethic kept the festive atmosphere going! There is no party like a polocrosse party! Please contact Eddie from E-Sound for all your future parties or functions

Sharon Simpson from Simpson consulting organised horse insurance sponsorship from ONE Equine. Please contact Sharon for special polocrosse horse insurance rates or any other insurance quotes on email ssimpson@iafrica.com


Dr Sherylle Calder and Christi Botha from EYEGYM spent a week with the South African team in Shongweni. They gave the team extra eye exercises to help with their final preparation. The team started their eye training in January and have enjoyed the support from Sherylle and Christi. PASA have included Eyegym in their test match preparation for the past five years. Two world Cup wins, one quadrangular win, A win in the 2010 uk tour and also a win in the u25 quadrangular all prove that Eyegym plays a very important part in our success. EyeGym have tailor made eye training for all ages and disciplines. Please contact Christi on 0218617811 or visit their webpage www.drsheryllecalder.com
Kirsten Van Heerden has been a very important part of the South African team for the past five years. Kirsten is a sports psychologist. Her insight, patience, knowledge and love for sport have been an invaluable part of the World Cup Teams training and preparation.

Hambanathi Car Hire sponsored our South African Team a bus for the duration of the World Cup. Please support Hambanathi should you ever need to hire a vehicle. Call +27826516579 or email bev@hambanathi.com
Thank you once again to the dedicated men and woman who volunteered to look after the horses. Hetta Carthew, Sarah Wallace, Courtney Odel, Claire Armitage, Robyn klaasen, Vicky Hall, Cathy Slaber, Ross and Rachel Dolbey, Carel Vosloo, Alex Zulu, Anton Snyman, Charl Du Plessis, Paula Maclarty, Chelsea Macdonald, Savannah Kenny, Megan Soul, Beth Maclarty, James Hackland and Karen Cocker.
Thank you to all the 56 grooms who worked at the Shongweni for 18 days and to their employers!
Thank you to FOOD LOVERS MARKET Scottsville for sponsoring food for our grooms and horse coordinators. We would not have survived without you. Please support Food Lovers Market Scottsville!
Thank you to our vets, Dr John Hodsdon and Dr George Schabort. For any veterinary needs in the Midlands area contact Dr Hodsdon at Almiray Vet Practice, cell 0828413601 and in the Cape contact Dr Schabort from Wellington on cell 0768775651.
Thank you to our dedicated team of farriers, Andrew Timm, Robbie and Ian Lynn.  They spend many hours in the stable area making sure every horses shoes were in good order! Andrew Timm can be contacted on cell 0824953374, Robbie can be reached on 0832521265 and Ian can be contacted on 0721847712 – Please support these farriers in the future.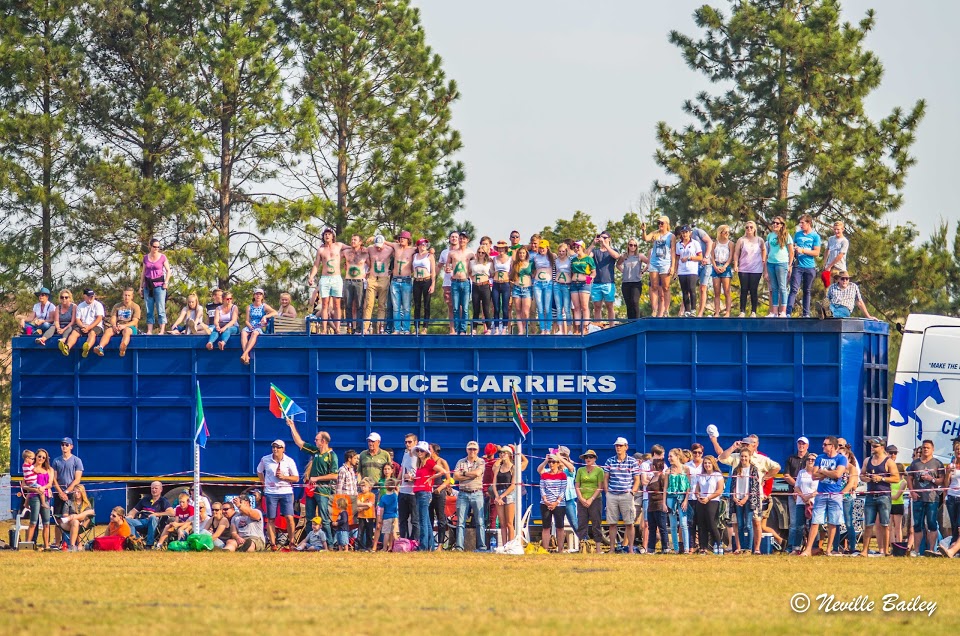 Choice Carriers, Andrew Odell and National Heavy Haulage, all sponsored horse transport to Shongweni. Choice Carriers ended up by providing extra seating at the field!
Contact Peter Choice for horse transport quotes on 083 3004488
or email peter@choicecarriers.co.za
and Kevin Soal of National Heavy Haluage on 0113101150 or email kevin@nhhsa.co.za for quotes on all your transporting needs.
Please support Colesdale in Shongweni. Pat Cole sponsored all the horse shoes and nails for the World Cup horses, he also sponsored uptight for every pool of horses. Pat sponsored the teams bandages and electrolytes. Colesdale is situated next to the Summerveld Racing stables. Pat stocks a large range of supplements, tack and farrier equipment. Tel 03107651840
Thank you to Em Bonsma for treating horses at the World Cup. Em Bonsma was the official world cup horse therapist. Em worked on many of the horses and eased their stiff muscles during the world cup. Em Bonsma has mainly worked with the jumping and endurance disciplines, as an ex polocrosse player she would like to treat more polocrosse ponies. We certainly saw the benefit of her work at the world cup, Em can be reached on cell 0825776771
Thank you to Evette Gemmil for spending hours with the South African teams horses, we had very few horses vetted out, Evette played a major roll in this. Evette is an agent for Bema blankets. Please contact Evette if you would like more information on the products she sells. Cell 0825584455
Congratulations to Mark Arnold for winning the Gordon Shaw saddle in the Horse Owners Draw! This was well deserved as Mark not only lent 3 horses, he also put the fence up around the stable area at his own cost. He had such bad flu, was ordered to stay in bed by his doctor but he still spent 3 days at Shongweni sorting out the stable fence and gate. Thank you Mark!
The saddle was kindly donated by Allisons Saddlery. Contact Gordon Shaw on 0828531582 to order your new tack today!
Congratulations to John Olgilvy from Zimbabwe who won the Bundy Filly – Flight!
Flight has been sold to Graham Keith, we hope to see Graham playing flight in th 2017 season!